---
donbeckerphoto.com
---
Welcome to my web site. Here you will find some of my photography images, created in the line of my teaching or commercial photography. I hope you will enjoy viewing them.
My attempt is to create images of beauty, whether the captured image is of an animate or inanimate subject. The use of lighting is paramount, with both highlights and shadows being important aspects of the composition. With female portraits and model photography, the creative use of makeup is also an important part of the technique. With digital images and Photoshop, the opportunities for creativity are vastly increased. However, an experienced and creative eye is the most important aspect of capturing dynamic images with impact.
I have included a section on the Washington School of Photography (WSP), where I am a long time faculty member and Technical Director. This section includes a number of photographs taken at workshops and classes that I teach there. Also included below is a link to where you can locate additional information on the school if you are interested. The school has celebrated over 30 years as the Washington DC area's premier photography educational program, so please visit the WSP web site. Their web site includes all of the classes and workshops offered including dates, times, and costs, and allows online registration. The school is located in Bethesda, Maryland in the suburban Washington DC area. The phone number of the school is 301-654-1998, and a map showing the location can be seen by clicking here.

Now, please enjoy the various sections below. I will be adding and changing the photographs at random times, so do come back and visit again when you get the chance. Contact information is at the bottom of this page, should you wish to contact me directly.

Don Becker

---
Photographs of the Ballet

Beauty and Glamour Portraiture

Fashion Photographs

Artistic Photographs of Gymnasts
Photographs of Butterflies

Photographs of Technology

Gallery

The Washington School of Photography

After you have had a chance to view the above Sections, please return to sign the Guestbook, and a comment if you would like: View my guestbook

---
To see more of my dance work, please visit my web site at http://www.ballet-photography.com, where I have many more ballet and dance photographs on display. To see more of my artistic gymnastic photographs as well as some action photos of gymnasts, go to my web site at http://www.artisticgymnasticphotography.com.
---
Contact Information: If you would like to purchase one of my fine art photographs, would like me to photograph you or someone you know, or to learn more about my photography and/or photographic services, you may contact me directly by e-mail to don(at)donbeckerphoto.com. I reside in the suburban Silver Spring, Maryland part of the Washington DC area. I am generally available for both studio and location photography, using digital image capture. I am also available for photography instruction and/or tutoring in most things photographic.
---
Copyright 2010 Donald Becker - ALL RIGHTS RESERVED - The unauthorized reproduction of all or any part of this entire web site and all of its' sections as well as all of the photographs contained herein is prohibited by law.
---
Webmaster: Don Becker
---
Note: If you are interested in a high quality web site at nominal cost, you should look into the folks at http://www.1and1.com.
---
Free Hit Counter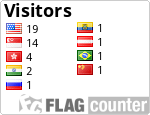 ---